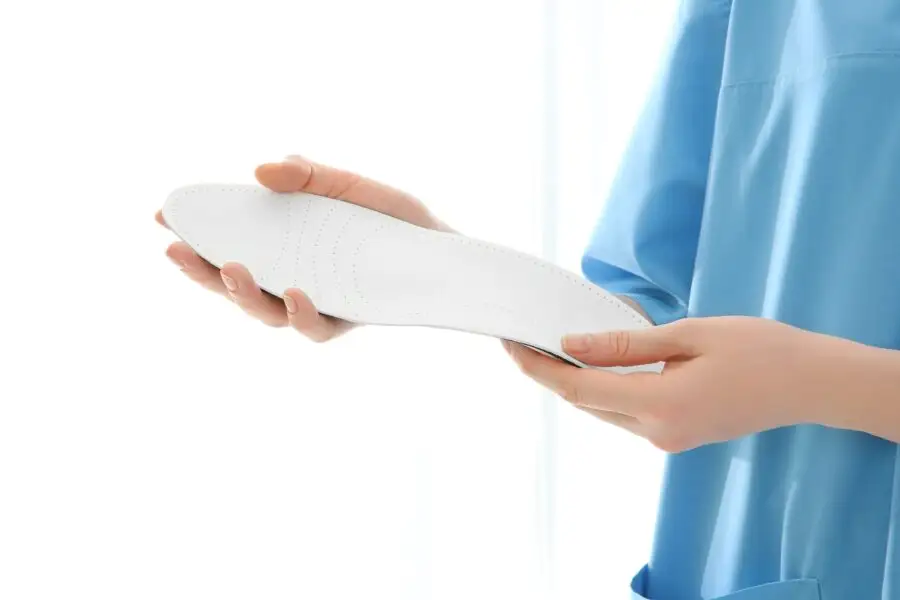 Plantar

orthotics

The primary goal of plantar orthotics is to improve the function of your foot in order to correct various biomechanical flaws or posture issues. They are used to compensate for certain deficiencies in your foot. Because they are custom designed specifically for your condition, the orthosis is perfectly adapted to the shape of your foot to optimize its function.

In addition to relieving any pain you may experience, a custom-made foot orthosis is adapted to the morphology of your feet, and redistributes the pressure exerted on them. It can therefore be used to treat many pathologies and deformities. Remember that the health of your feet is important to be able to perform your daily activities.

To ensure your orthotics treatment provides effective results, the podiatrist will have to evaluate you and design a custom casting of your feet. You will be cared for during all stages of the process, to ensure you receive the correct orthosis, which you can wear during all your daily activities. It won't take long before you no longer even notice you're wearing it.

Invented more than 200 years ago, plantar orthotics have evolved considerably over the years, and the latest versions benefit from cutting-edge technology and many state-of-the-art digital tools. Nowadays, orthotics are very useful devices that optimize the function of the foot and ensure better recovery. Orthotics have also become very robust and can last from 5 to 10 years.

Learn more about plantar orthotics and their many benefits.
What are the different types

of plantar orthotics?

There are 2 main types of plantar orthotics, and it is important not to confuse them:
Custom plantar orthotics

: this option is available to you when you consult with a podiatrist, who will conduct a personalized evaluation and prescribe plantar orthotics that are customized to suit your feet.

Over-the-counter plantar orthotics

: you can find orthotics in a pharmacy; however, this is not always the best solution for your specific condition. In reality, each person's foot is different, and the quality and effectiveness of these orthotics are not always optimal, because they are not adapted to your specific condition.
Additionally, there are several types of custom-made foot orthotics, depending on your needs. They can be flexible, semi-flexible or rigid, depending on your health requirements. Here are some examples:
Plantar orthotics for children

: plantar orthotics can be worn by children aged 3 and older. It is possible to prevent or correct certain biomechanical deficiencies at a very early age. Children's orthotics are specifically designed to adapt to children's feet that are growing.

Plantar orthotics for diabetics

: diabetes often weakens the foot, because it affects the nerves and arteries. Orthotics for diabetics prevent the formation of wounds or lesions that may result from diabetes. This type of orthosis is semi-flexible in order to relieve pressure points, while promoting optimal foot function.

Plantar orthotics for athletes

: this type of orthosis is designed to support running and sports activities. It is manufactured with materials that assist with foot propulsion and absorb impact shock. It is also designed to absorb foot moisture during physical activity.

Accommodative plantar orthotics:

particularly suited for seniors or those dealing with arthritis, accommodative orthoses are very flexible and cushioned to relieve as much pressure as possible on your feet and foot joints. They are also designed to help prevent falls among the elderly.

Short plantar orthotics: no need to wear an orthosis that covers the entire foot in order to correct certain podiatric issues. In general, there is little added value in having an orthotic device that reaches the toes, and full-length orthoses limit the choice of footwear. You have the option of wearing a shorter orthosis to accommodate a wider variety of footwear.
What types of pain

can plantar orthotics alleviate?

The podiatrist designs a custom orthosis to meet all aspects of your treatment plan. Technical advances in orthotic design now allow podiatrists to treat a very large number of foot, heel, back, ankle and knee issues caused by various foot problems:
Flat or hollow feet
Heel spurs (calcaneal spur)
Various Achilles tendonitis issues
Bursitis or capsulitis
Bunionette (bunion on the baby toe)
Poor posture
Foot deformation
Legs unequal in length
Even if you are not experiencing pain, it may be important to wear custom orthotics for adequate prevention in the case of severe deformities with a high risk of foot damage. This way, you can prevent any biomechanical or morphological issues that could become potentially harmful in the long term. Wearing an orthosis is a good way to alleviate many foot problems.
What's the best way to adapt

to wearing plantar orthotics?

The days when foot orthotics were a handicap to your daily activities are long gone! Nowadays, this type of equipment can be worn comfortably. Of course, there is an adaptation period, but your podiatrist is trained to ensure that this adaptation period is as short as possible. The length of adaptation varies from case to case, but wearing orthotics is usually done gradually over 1 to 2 weeks, which allows your feet to become accustomed to the device.

During the first two weeks, it is normal to experience minor discomfort while wearing an orthosis. It actually changes the way your muscles work and modifies the position of your foot, which can lead to changes in your gait. Your entire body will have to adapt, which can cause aches and pains in your feet and legs. However, the podiatrist will have previously conducted a complete evaluation of your feet and will design a treatment plan so that you can become accustomed to it as quickly as possible. It is very important to follow instructions to the letter in order to quickly return to the normal course of your life. When your adjustment period is over and you are comfortable and symptom-free, you can resume your regular sports activities with your orthotics.

Initially, your podiatrist will recommend that you wear your orthotics for only one hour each day. Then, gradually, you will increase the number of hours. Don't hesitate to contact your clinic if you have any questions or doubts about your condition during this adjustment period.

In the weeks following the adjustment, if you experience significant discomfort, you should contact your clinic to learn whether the discomfort you are experiencing is normal. Your podiatrist can recommend exercises to make your foot more receptive to wearing an orthosis, or make modifications to the device to make it more comfortable.

Since the orthosis is a device that works over a gradual period of time, it generally takes between 4 and 8 weeks to see significant progress in reducing your level of pain for which the orthoses were designed.
Properly caring

for your plantar orthotics

In order to benefit from the most effective treatment to correct a foot problem, it is important to take care of your custom orthosis. Just like a dental appliance or prosthesis, it must be cleaned regularly to increase its durability.

Below are a few simple steps to take to protect your plantar orthotics:
Wash the orthosis frequently with mild soap and a cloth soaked in warm water. Be careful not to damage it by immersing it in water.
At the end of the day, remove the plantar orthosis from your shoe to prevent the growth of any bacteria caused by humidity, then allow it to dry completely at room temperature until the next morning.
If your orthotic device emits a strong odour, spray it with an anti-odour product. Your podiatrist can suggest various products.
Avoid placing the foot orthotic directly on a heat source, such as a radiator, or exposing it to direct sunlight.
Carefully clean the inside of your shoes before replacing the orthosis.
Never leave your foot orthosis within reach of your pooch or kitty.
Lastly, in addition to any follow-up visits, it is recommended to consult your podiatrist once a year so that they can conduct an in-depth review of your plantar orthosis and ensure that it is still performing the task for which it was designed.
What are the steps

involved in the manufacture of custom plantar orthotics?

Custom-made plantar orthotics are very versatile devices designed to meet many conditions, and they are manufactured using a variety of techniques.

Let's take a closer look at the steps involved in their detailed design:
Biomechanical assessment: the podiatrist conducts a full biomechanical assessment of your feet. They then make the mould and design a digital and 3D model of your feet. Your gait is also examined, with and/or without wearing your shoes.
Podograph: the podiatrist traces the shape of your foot on a flat surface to study its shape, pressure points and morphology.
Design of the plan for the orthotic device: once the assessment is completed, the podiatrist determines which type of orthosis is best suited for you (correction, type of material, flexibility required, etc.)
Selection of materials: there are various types of coatings available, depending on your activities or the type of correction required. Choices include leather, foam, cork, leatherette, thermoplastic or ethylene vinyl acetate (or EVA).
Manufacturing the plantar orthotic: the plantar orthosis is manufactured in a convection oven and then vacuum-pressed. It can now also be cut directly from a material or produced using a 3D printer.
Shoe test: once the orthosis has been manufactured, the podiatrist or orthotist schedules an appointment with you to test the orthosis in your shoe. Small adjustments to the orthosis can then be made. They can recommend the best shoes to wear if necessary. A follow-up meeting 2 months later is usually scheduled by the podiatrist to ensure that the orthosis is performing the work it was designed for.
Who pays

for the plantar orthotics?

Many patients at PiedRéseau clinics often wonder if their plantar orthotics are covered by their insurance plan or if they are tax deductible. You should know that it is quite possible to have your orthotic devices reimbursed, in whole or in part, by your private insurance companies if they are covered under your plan. In addition, the portion that is not covered can be used for income tax deduction purposes.

The Ministère du Travail, de l'Emploi et de la Solidarité sociale contributes up to $180 towards the cost of your orthotics. A document signed by your podiatrist is required to prove the necessity of your plantar orthotics. The replacement of an orthosis is reimbursed every two years, except for podiatric plantar orthoses. In addition, if a third party assumes a portion of the cost of the orthotics, the amount is deducted from the contribution provided by the Ministère. You may also be reimbursed by the federal government.

The Régie de l'assurance maladie du Québec does not pay for the cost of plantar orthotics. However, your group insurance plan at work may pay for part or all of the cost. The Commission des normes de l'équité, de la santé et de la sécurité au travail (CSST), and Indiginous and Northern Affairs Canada and Veterans Affairs Canada also assume the costs, but you must request prior authorization before visiting a clinic.
The PiedRéseau difference

for your plantar orthotics

Regardless of your age, health history or condition, PiedRéseau has the largest network of podiatry clinics located throughout the province of Québec to assist you without delay. pour vous prendre en charge rapidement. All our clinics are equipped with cutting-edge technologies and extensive expertise to provide the right podiatric diagnosis for your problem and design an effective customized foot orthosis to treat it.

By combining their skills, the podiatrists affiliated with the PiedRéseau network have developed better methods of manufacturing, replacing and repairing orthotics. They also have the knowledge to clearly explain your situation and how an orthotic device can help you. You can also benefit from clinics throughout the province to provide the best follow-up in a friendly atmosphere.

If you are suffering from a condition that affects your gait and daily life, consult a podiatrist at a PiedRéseau clinic near you to find out what an orthosis can do for you.

And remember that podiatrists do not only offer plantar orthotics treatment. They can also perform:
therapeutic laser treatments
cortisone injections
ultrasound treatment
shockwave therapy
manual therapy
therapeutic taping
recommendations for various stretching and exercises
With the use of orthotics and other treatments, the podiatrist can help provide relief and healing of your feet as quickly as possible.