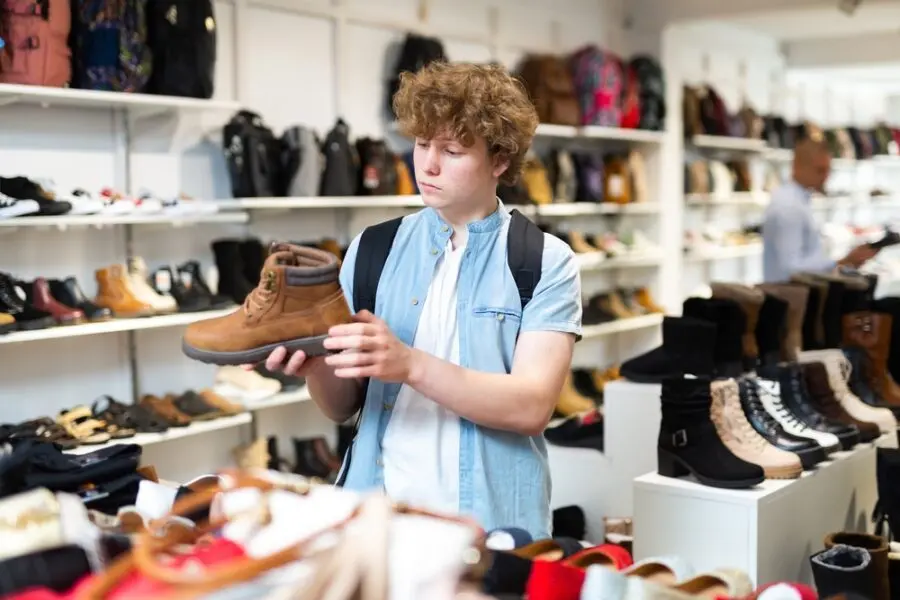 Forests turn to warm colours, temperatures drop, humidity increases, and it is still dark when you wake up. It is time to break out the wool and the scarf now that the fall season has arrived. In order to keep enjoying the outdoors, it is also time to consider footwear. Here are some pointers for selecting the appropriate footwear for fall.
Hiking shoes and boots for fall
Whether you occasionally hike for recreation or are a seasoned hiker, the footwear you choose is essential to ensuring that you can enjoy your activity comfortably.
There are two main types of hiking footwear: larger hiking boots that provide ankle support and lightweight ones similar to running shoes. Asking yourself what conditions you will be hiking in will help you decide what kind of footwear you need. Will there be hills or flat terrain? Are you going to need rain boots for the fall? How much time will the hike take?
When trying on fall footwear in a store, it is important to consider how comfortable the boot or shoe is with the laces fastened. Your feet should not be compressed but should be adequately supported. You will only be comfortable if the shoe is stiff and feels lighter. Know that leather holds up better than synthetic materials in terms of shoe durability. Take notice of the shoe's thermal insulation, too. With the approach of winter, you and your toes will be happy to stay warm.
Rain boots for fall
In recent years, rain boots and fall boots have become increasingly popular and even considered fashion accessories. However, there are a few more factors to take into account than just its appearance if you want your rain boot to function properly.
Rubber is typically used to make rain boots in order to ensure waterproofing. Some fall-season boots come with an internal lining that increases their insulation and warms them up.
Your leg will be better protected by high boots than by low boots. Consider the height of the boots if you intend to wear them in the city or if you are looking for hiking boots in the countryside. Although non-slip soles are frequently found on rain boots, each model's heel height is different. When testing, keep an eye out for this aspect.
Running shoes for fall snow
Snow and ice in the early fall is sparse, but it is enough to make running more challenging. Consider waterproofing, slipping resistance, and insulation when choosing your late fall running shoes.
It is tempting and possible to continue running in the fall in your summer running shoes. However, as winter approaches, it is likely that your level of comfort will decline. Select footwear that is appropriate for both fall and winter. When the snow starts to fall, it will be simple to add crampons if your fall shoes support them. To improve traction on the ground, some running shoes do come with textured soles.
Running shoes for the fall
If you run mostly in the city, your choice of fall running shoes may not be different from for someone who prefers to run on dirt trails.
City running shoes with a relatively smooth sole offer more protection against repeated foot impact on hard sidewalks. Outdoor running shoes have the benefit of offering stability on steep or slippery surfaces and are strong enough to withstand natural elements like rocks. There are also hybrid running shoes for the fall that can be used for both city and outdoor running. In all circumstances, it is best to ensure that your foot is properly supported in the arch and heel and that the shoe size is nice and tight but not excessively so.
What shoes should I pick for fall if I have foot condition?
Do you have a medical condition that causes you to experience discomfort in any shoe?
If you need assistance, your podiatrist is your best bet. By examining your feet, they can determine the best course of action and choose the proper footwear that will keep your feet warm and dry in the fall. Do not hesitate to contact a clinic near you.