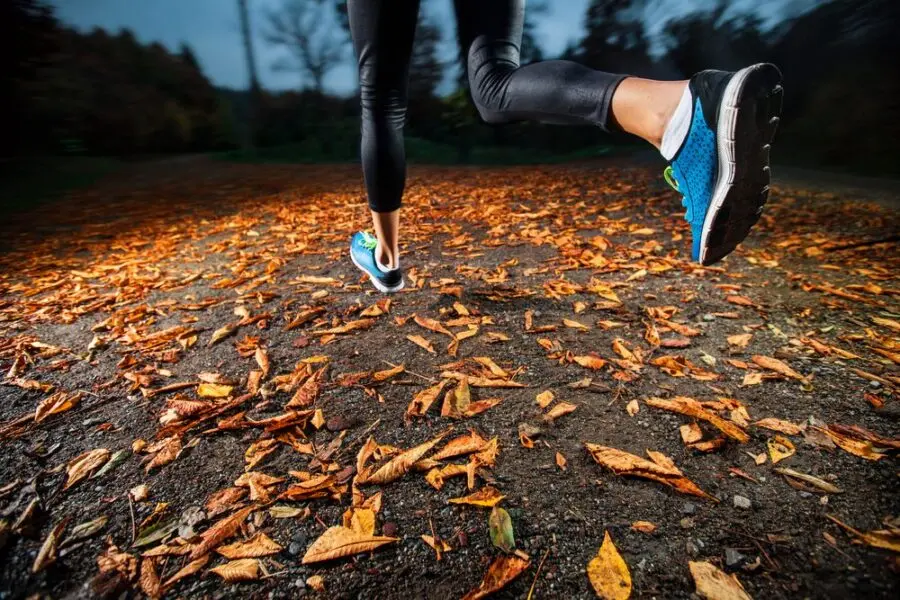 Your energy levels may be impacted by the changing weather and reduced light as fall approaches. Maintaining a running schedule is a great way to keep both your physical and mental health in top condition. Going outside in the rain or wind, however, can be risky. Here are some tips to help you keep reaping the benefits of running throughout the fall.
Avoid the risks associated with running in the fall
Since there is less sunlight, it is colder, and it is more humid in the fall, running calls for more preparation.
Darkness is a factor whether you run in the morning or later at night. To remain visible to vehicles, dress in reflective material or use a headlamp.
Make sure your shoes are appropriate for the terrain you will be running on before you start. Examples of such surfaces include wet and leafy ground. You will lessen your chance of suffering a sprain by adequately preparing for it. To ensure that you can be quickly located in the event of an accident, choose a route that is both familiar to you and close to home.
Check the weather before you dress. You can dress in layers if it is cold, so you can remove some as your body warms up. You can wick away sweat and avoid catching a cold by wearing breathable fabrics.
How to prepare for the cold when running in the fall
Running in the fall has the benefit of preventing heat exhaustion because of the temperature. However, the cold can have an impact on your stamina and your goals as well.
Use the onion skin technique to stay warm while also being able to gradually undress as you get used to the temperature. A waterproof running jacket and shoes may be helpful as fall is typically quite wet. A breathable hat and gloves might be a good idea to keep you warm if it is very late in the season.
Finally, you can keep your feet dry by wearing socks made of a fabric that is waterproof and breathable, like wool. These socks will protect your feet from the cold and stop wet skin from rubbing against the shoe, which could lead to blisters and lesions.
Choosing the right footwear for running in the fall
The weather and the characteristics of the terrain must be taken into consideration when choosing shoes for outdoor activities like running.
Not only should the running shoes fit your feet, but also your body, when you go for a run. The materials in your shoes should be malleable enough to support your foot's arch. It is best if the soles are partially flat. Waterproofing will also be a crucial feature if it rains or snows.
You can consult your podiatrist for advice if you have a foot deformity. You can also assess your support points and determine whether you need a custom orthosis with the help of a podiatric evaluation.
The surfaces can be very slippery while running in the winter and even be dangerous. To maintain your stability and safety, you should look into the option of wearing spiked shoes.
Preventing injuries when running in the fall
Strengthening your muscles and modifying your running technique to fall conditions, along with proper warm-ups and stretching, can help you avoid tripping and injuring yourself.
You can incorporate muscle-strengthening exercises to support your stability. Squats will work your thighs, while sheathing exercises will strengthen your core.
Give yourself at least 5 minutes to warm up before your session. Your muscles and joints will soften, and your body will warm up as a result of rolling your feet and doing ankle exercises.
Start out by running short distances in the fall if you have never done it before, alternating between jogging and walking intervals. You can run without worrying about getting hurt if you take the time to adjust to your new surroundings.
Start running in the fall with your podiatrist's advice
When you first start, selecting the proper running gear and training regimen can be challenging, especially if the weather is a factor. Speak with your FootNetwork podiatrist about how you can modify or enhance your running techniques this fall: you will get proper guidance on the best preparation exercises, orthoses, and shoes for you.