As a podiatrist and business owner, Dr. Serge Gaudreau masterfully orchestrates the activities of the Beloeil clinic.
This former president and administrator of the Ordre des podiatres has also received training worthy of the podiatric services he provides. 
From 1996 to 2000, Dr. Gaudreau learned the basics of the profession at the New York College of Podiatric Medicine. 
Eventually, in 2010, after having practiced for a few years in Montréal, Dr. Gaudreau founded his own clinic and surrounded himself with other exceptional podiatrists.
Today, it is truly an attentive team concerned about your well-being that is standing by to assist you at the Beloeil podiatry clinic.
Beloeil podiatry clinic
545 Boulevard Sir-Wilfrid-Laurier #112, Beloeil, QC J3G 4H8
1-888 819-0288 toll free
Business hours
Monday : 9:00 - 19:00
Tuesday : 9:00 - 20:00
Wednesday : 9:00 - 17:00
Thursday : 9:00 - 15:00
Friday : 9:00 - 16:00

An honest clinic that pays attention to every detail
Always attentive to the needs of its clientele, the Beloeil Podiatry Clinic is backed by the expertise and experience of its team of dedicated professionals.
Located on Montreal's South Shore, the Beloeil Podiatry Clinic provides foot care to a wide variety of patients. From child podiatry to podiatry for seniors and sports medicine, the Beloeil podiatry clinic has the necessary equipment to manage your pain.
Common issues
Treatments offered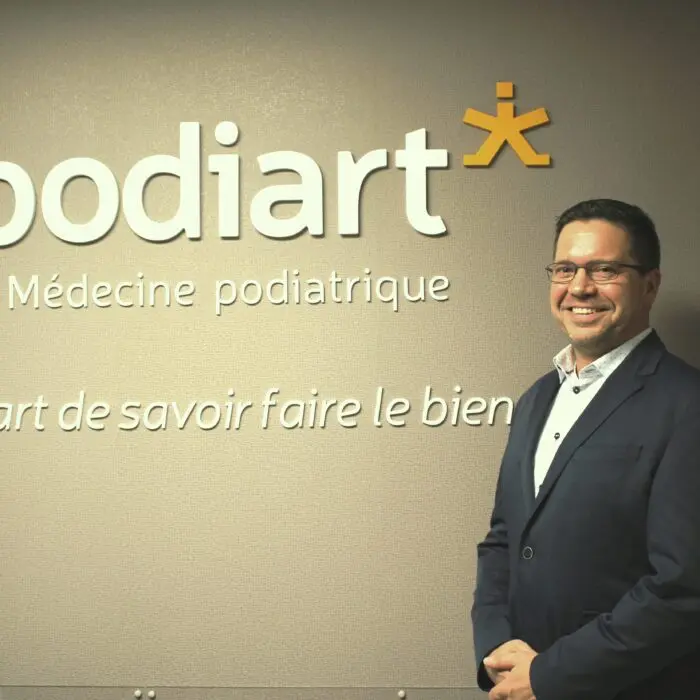 Dr. Serge Gaudreau podiatrist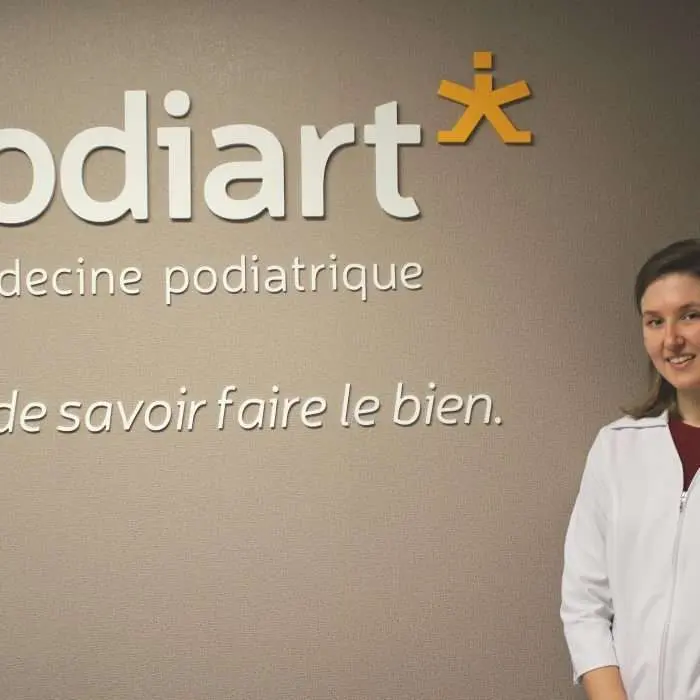 Dr. Marie Joëlle Massicotte podiatrist
Dr. Laurence Gagnon podiatrist
Dr. Serge Gaudreau podiatrist
Dr. Serge Gaudreau, podiatrist, is the co-owner of the Beloeil Podiatry Clinic and more widely the Podiart Group, having practiced his profession since he obtained his doctorate in 2000. Serge Gaudreau, a practitioner concerned with Quebecers' plantar health, is periodically asked to treat patients in his Montreal facility which he supervises together with the podiatrist William Lee.
Dr. Gaudreau, a podiatrist who is recognized for his deeply human approach, enjoys working with a wide range of patients.
An indisputable know-how
Serge Gaudreau studied at the prestigious New York College of podiatric medicine with over 20 years of expertise. He graduated from this college in 2000. 
The practitioner additionally broadened his expertise by obtaining a certificate in radiology and foot ultrasound, on top of his theory and practical knowledge obtained at the university. Podiatrist Dr. Gaudreau is well trained to use instruments such as digital foot radiography for diagnostic purposes.
He does not hesitate to intervene on numerous forms of plantar discomfort if he is to put his wide expertise to everyone. The podiatrist at the head of Beloeil Podiatry Clinic is really flexible, offering treatments from runners to young kids and those with restricted mobility. The Ecole supérieure de ballet du Québec is also often inviting podiatrist Dr. Gaudreau's expertise to treat their dancers.
An impressive track record
Serge Gaudreau, DPM, is sympathetic to various issues and is not afraid of his voluntary opportunities. He has been notably involved in numerous events, such as marathons at the Accueil Bonneau.
He also served as President of the Ordre des podiatres from 2005 to 2011, involved in his professional community since his first years of practice.
The podiatrist Serge Gaudreau is an outstanding communicator and displays a professionalism that does not leave his patients indifferent.
Close
Dr. Marie Joëlle Massicotte podiatrist
Podiatrist Dr. Marie-Joëlle Massicotte has been practicing this profession since 2011. She was able to shape her practice while working at the Beloeil podiatric clinic after receiving her PhD. She's worked at clinics in both Longueuil and Montreal.
Dr. Marie-Joëlle Massicotte, podiatrist and member of the Ordre des podiatres du Québec, is able to satisfy the needs of a wide range of clients.
Getting the most out of continuing education
Marie-Joëlle Massicotte, a podiatrist with an undergraduate PhD from the UQTR podiatric medical program, can treat plantar discomfort from a variety of causes. She was able to put her knowledge to the test before earning her degree by enrolling in a four-month immersion program at the New York College of Podiatric Medicine.
Marie-Joëlle Massicotte, DPM, is an experienced practitioner who recognizes the significance of keeping her skills up to date. She accomplishes this by diligently attending the training hours mandated by her order.
She also visits the United States on occasion to attend training seminars hosted by the International Foot and Ankle Foundation for Education and Research (IFAF).
Dr. Marie-Joëlle Massicotte, podiatrist, is pleased to deal with patients of all ages and backgrounds, thanks to the qualifications she has earned over the years.
A podiatrist who gives back
Podiatrist Dr. Massicotte is a supporter of programs aimed at raising awareness and preventing foot diseases.
One example of her dedication is her volunteer booth at the Grand Défi Pierre Lavoie, where she was able to provide foot care for young runners.
The expertise of podiatrist Marie-Joëlle Massicotte is amazing, but so is her ability to create a trusting relationship with her patients.
Close
Responsible for Personal Information / Privacy: Ben Lee 450-281-1292
Request an appointment at the clinic
Leave us your contact details and availability and we will contact you to make an appointment.