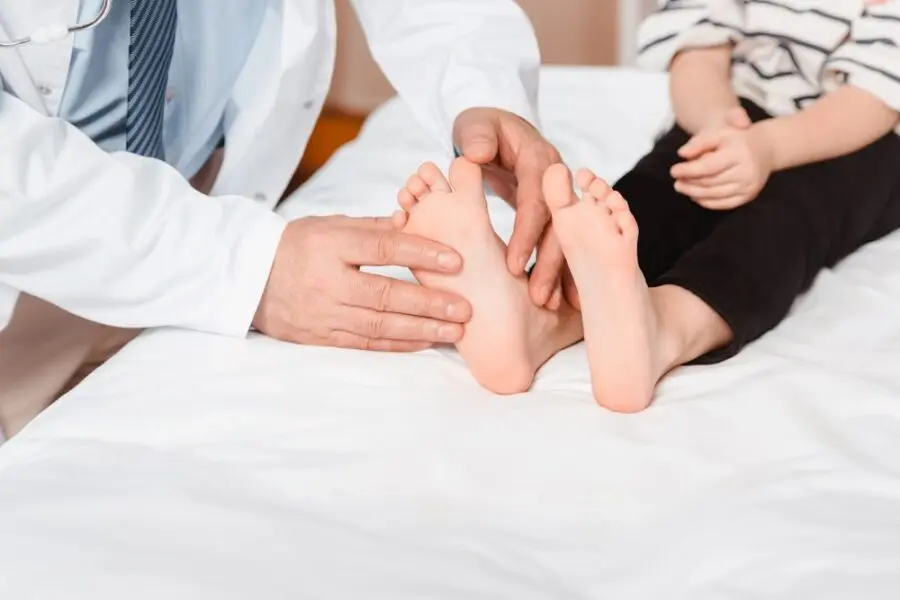 Sever's disease is a type of pain felt in the heel (calcaneus) that should be monitored in growing children, especially if they are active! Rest assured, this condition is frequent and benign. However, it can interfere with daily activities for several months or even years.

Of course, as a parent, you will never be able to stop your children from growing or playing sports. However, you can prevent or relieve this condition by taking prompt action and having your child seen by a podiatrist. In addition, your child can be made aware of this condition and learn to develop better reflexes when playing sports.

Learn more about this growth disorder so that you can better manage it.

Symptoms of Sever's disease
This type of pain usually occurs in the form of inflammation that may affect one or both feet. Sever's disease usually occurs between the ages of 8 and 15, especially after engaging in physical activity such as gymnastics, tennis, running or soccer.

Although harmless, Sever's disease can still cause pain that is often unpleasant for your child:

● Heel pain that occurs after playing sports;
● Burning sensations in one or both heels around the Achilles tendon;
● Swollen and red heels;
● Difficulty placing the foot on the ground.

In most cases, these symptoms resolve themselves with rest. However, the pain may return if your child resumes sports activities. When this happens, the intervention of a podiatrist becomes important.

Heel pain will stop completely at the end of your child's growth, but it is recommended that you consult a specialist to ensure your child's comfort during this phase.

Causes of Sever's disease
The main cause of this growth disorder concerns the growth plate of the heel bone, also called the "physis." Before the age of 15, the cartilage in this area of the foot is separated into 2 parts, which are designed to unite and solidify the heel. Since the ossification of the growth plate is not complete in children and pre-adolescents, the heel becomes more vulnerable.

Thus, if the physis is subjected to repeated shocks or excessively abrupt movements, during contact sports for example, a painful inflammation can develop. However, physical activity is not the only possible cause.

Sever's disease can also be caused by:

● A sudden growth spurt;
● A deformation of the feet (such as hyperpronation);
● Excess weight;
● Poor posture;
● Wearing inappropriate shoes.

In short, the main risk factors for Sever's disease occur when your child's feet are under repeated pressure or lack support while walking or running. It should also be noted that Sever's disease is not hereditary.

How do we prevent and detect Sever's disease?
This condition is difficult to diagnose, since heel pain can take many forms. In order to clearly identify it, the podiatrist often takes an x-ray of the foot. This makes it possible to detect whether the pain is actually caused by a problem with the growth cartilage.

To minimise the side effects of Sever's disease for your child, pay attention to the signals: if your child limps or walks in an abnormal way or frequently complains of pain after playing sports, take action quickly!

The best way to treat this heel pain is complete rest. Your child will have to temporarily stop all physical activity and limit their movements to a maximum for about 4 weeks. However, the podiatrist will determine the period of time needed to allow for a complete recovery.

If your child is unable to remain inactive, they can still participate in sports where the heel is not overly stressed. Seek professional advice!
Depending on the case, the podiatrist may also recommend other solutions to treat Sever's disease, such as wearing appropriate footwear or foot orthotics.. Custom-made orthotics are an interesting solution to absorb the shocks felt in the heel. They can also correct deformities or relieve pressure points.
PiedRéseau: for the effective treatment of your child's heel pain
Does your child complain of foot or heel pain? Visit one of the many PiedRéseau clinics in Quebec to benefit from the most effective treatments to relieve their problem. PiedRéseau brings together close to forty clinics across the province and benefits from the latest technology to treat any podiatric condition.
Schedule an appointment today to allow your child to walk pain-free!