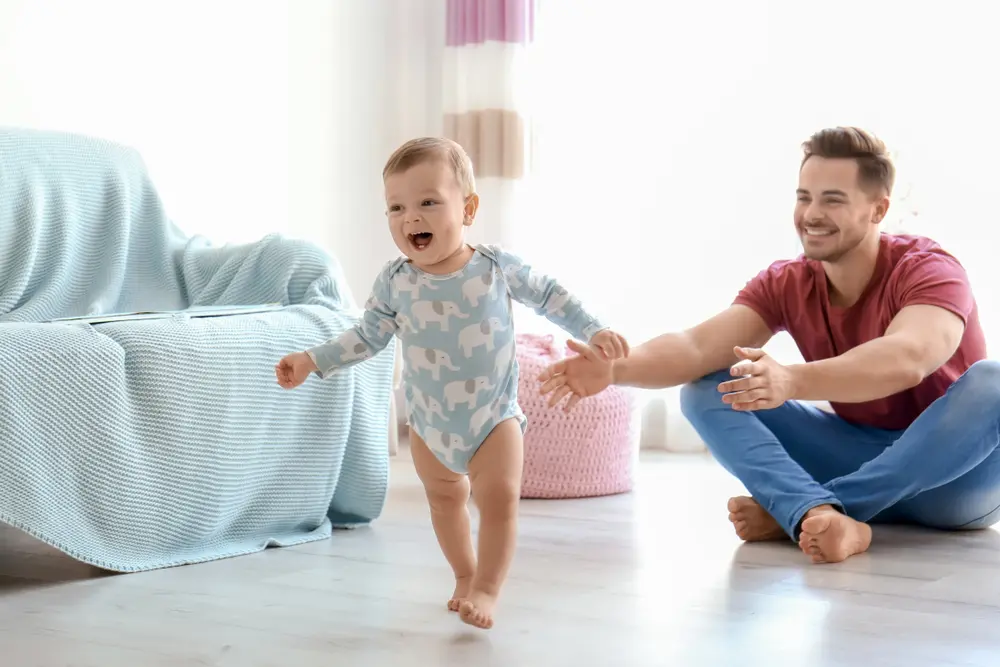 Helping baby take their first steps is always an important process for parents. Your baby's first steps are an essential part of their development.
Babies normally start walking around their first anniversary (generally between 12-16 months). This process can continue up to 18 months of age or more for some babies.
Regardless of the speed of their development, you need to know some things to help your child through this step and get them started off on the right foot! You must also ensure you choose the right shoes for your baby…
Encouraging baby's first steps
To help your baby begin walking, you must first set up favourable conditions to encourage them to begin.  
Encourage their movements

: when they climb, crawl or move around on the floor, your baby is learning to be comfortable with their body. It is important that you allow them to explore their movement in a safe environment.

Let them go barefoot in the home

: babies often have a tendency to walk more naturally when they are barefoot. This way, they develop their foot muscles. It then becomes easier for them to walk with shoes.  

Provide them with toys that promote walking

: once your baby has become strong enough to stand up for a few seconds, get them to perform activities that include walking. For example, give them wheeled toys they can push around the home in complete safety.

Have them try, again and again:

there is no miracle recipe for success. Your baby will walk in time with practice. If they fall, it is not dramatic, encourage them to try again.

Don't skip any steps!

: don't expect your baby to start walking if they can't sit up and move their head by themselves yet without assistance, if they can't sit down by themselves or are not able to stand up alone for several seconds.

Respect the rhythm of your baby

and take it one step at a time.
It is recommended that you consult with a physician if your baby still cannot walk after the age of 18 months. Your healthcare professional will be able to determine if everything is normal.
You must also be prepared for when your baby does start to walk. That's when you must know what kind of shoes to buy for them.  
Choose the right baby shoes

Before they are able to walk, your baby needs shoes to protect their feet while outside. But once they begin to walk with ease, they must have the appropriate footwear! Choosing the right shoe is essential, because your baby's feet are fragile and in full development.
Below are a few tips to help you find the right shoes for your baby.
Choose non-skid soles

: make sure that the soles will not slip!

Pay attention to the shoe's flexibility

: it is important that the shoe be able to follow the movements of your child. They must feel confident with a shoe that fits their foot shape. Above all, avoid cushioned soles that hinder the proper development of your child's feet.

Select lace-up models

: laced shoes often provide more support and fit for baby's feet.  
Often, a good quality soft leather shoe is a safe bet.
Call upon the services of a podiatrist
Don't hesitate to consult your podiatrist for useful advice and tips on your baby's feet and their first steps, so important to help get them started off on the right foot.
Want to learn more about the best ways to help baby take their first steps?
Consult PiedRéseau for more useful advice and tips!