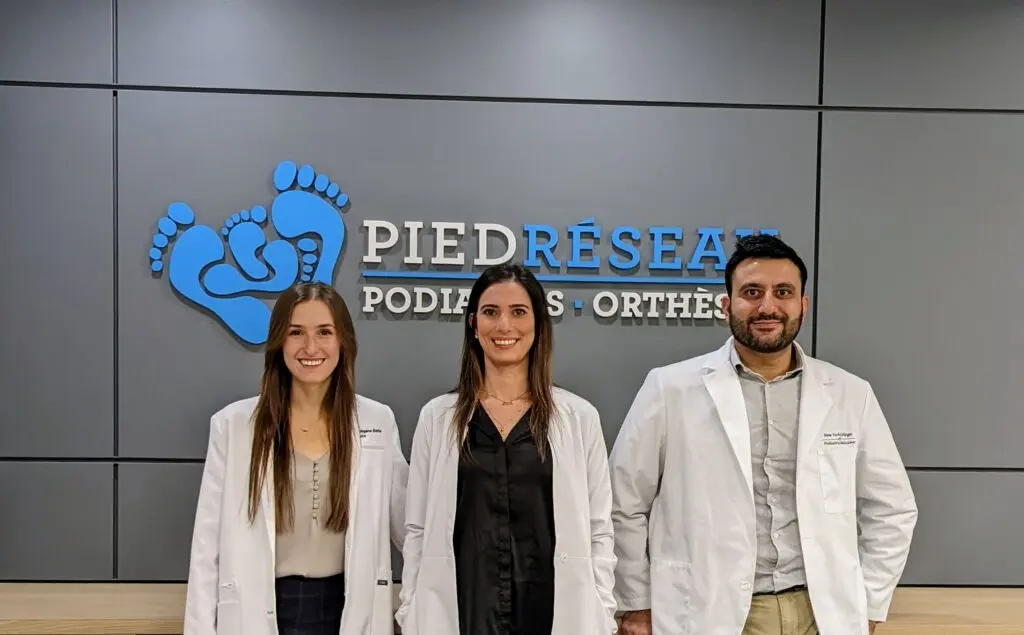 Opened in 2011, the Clinique podiatrique de Gatineau in the Hull sector comprises a team of experienced and devoted professionals who care for their patients. 
Podiatrist Antoun Hajj joined the team in 2016 to manage both of the Gatineau clinics. Today, you can count on the expertise of 4 experienced podiatrists and 4 nurses specialized in podiatric care.   
Don't hesitate to visit your nearest clinic in the Hull sector for comprehensive foot care. 
The Hull clinic is associate with PiedRéseau Aylmer and PiedRéseau Gatineau.
PiedRéseau

Hull

711 Boulevard Saint-Joseph, Gatineau, QC J8Y 4B4, Canada

1-888 266-2657 - toll free

Business hours

Monday : 8:00 - 19:00
Tuesday : 8:00 - 19:00
Wednesday : 8:00 - 19:00
Thursday : 8:00 - 19:00
Friday : 8:00 - 13:00

The latest equipment
The team at the Clinique podiatrique de Gatineau in Hull has the technological equipment to ensure that you are being treated in the best possible way.
In addition to using the latest technologies, the podiatry clinic in the Hull sector is staffed by a multidisciplinary team. Dr. Hajj, a podiatrist, was trained in podiatry, but also has a double bachelor's degree in biochemistry and health sciences.
Podiatrists Élie Bélanger, Maria Hajj and Marie-Christine Torchon round out the team with their diverse areas of expertise.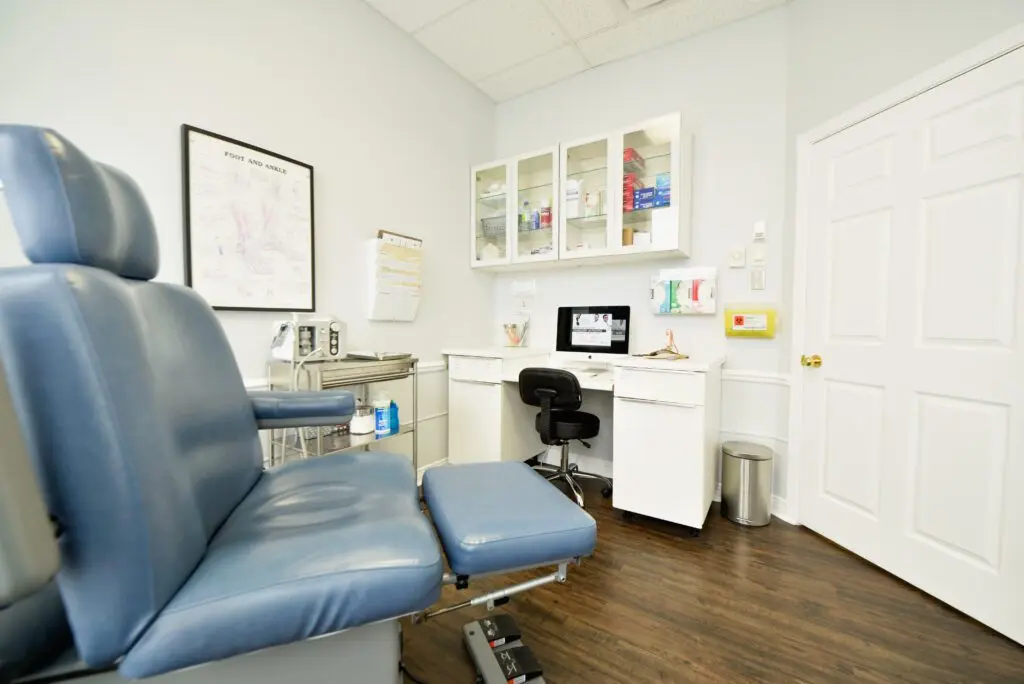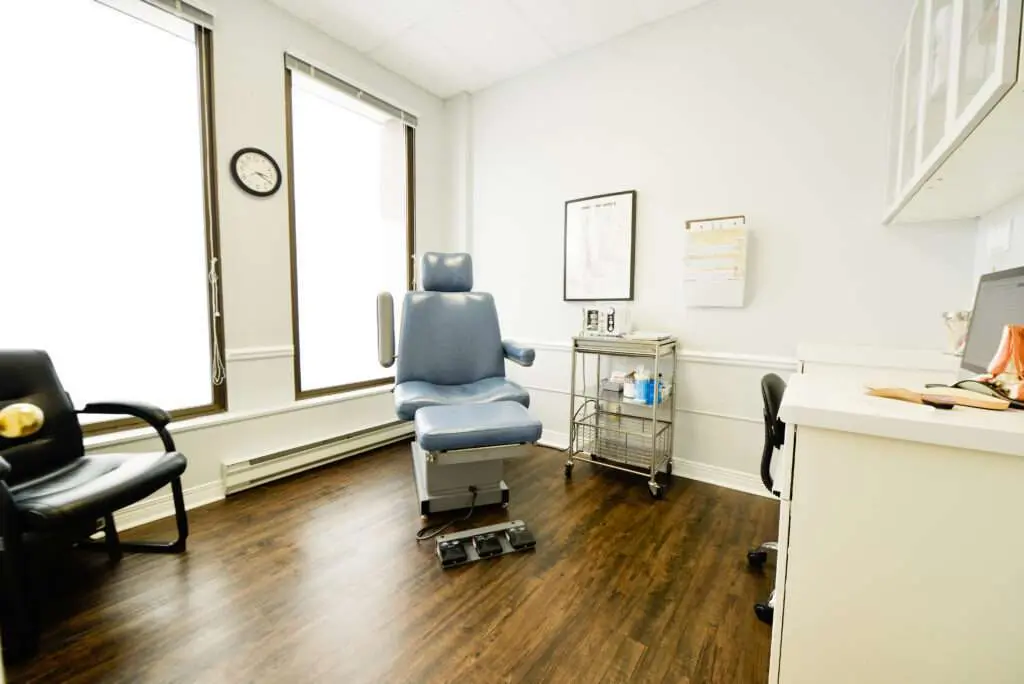 Dr. Antoun Hajj podiatrist
Dr. Antoun Hajj, podiatrist, graduated from the Université du Québec à Trois-Rivières (UQTR) with a PhD in podiatric medicine in 2014. He is a flexible and highly specialized expert. His University of Ottawa double bachelor's degree in biochemistry and health sciences serves as a testament to his versatility.
Antoun Hajj, DPM, has been putting his considerable knowledge in podiatric medicine to the benefit of the people of Gatineau and Ottawa since receiving his PhD. He is also the region's only podiatrist with his own orthotic production laboratory, ensuring the highest quality goods for his patients.
A qualified professional for a turnkey solution
Dr. Hajj, podiatrist, can respond to any difficulties, including diabetics, children, athletes, and the elderly, thanks to his radiology license and certificate in foot and ankle ultrasound.
Thanks to an externship at the New York College of Podiatric Medicine, this foot specialist was able to polish his skills in fields such as pedopodiatry, radiography, and podiatric orthopedics throughout his training. As a result, he has a diverse variety of clinical and hospital-based experience.
Antoun Hajj, DPM, runs podiatry clinics in Aylmer, Hull, and Ottawa in addition to treating his many patients. As a result, all inhabitants of the region may expect a thorough and comprehensive examination of their situation.
A podiatrist who is passionate about his work
Dr. Hajj, podiatrist, is dedicated to teaching the future generation of podiatrists as a leader in his industry. He is a member of the committee for continuous education of the Ordre des podiatres du Québec.
Furthermore, this podiatrist considers it an honor to educate the general public on foot health by making countless lectures to sports teams, diabetics, and elderly. He is frequently called upon to provide training sessions at many medical clinics, so other health professionals may rely on his knowledge.
Podiatrist Dr. Antoun Hajj is thirsty for new knowledge and really enthusiastic about his work. His patients can always expect a comprehensive therapy plan to help them get back on their feet.
Close
Dr. Maria Hajj podiatrist
Podiatrist Dr. Maria Hajj has been working with the Gatineau Podiatry Clinic's two locations since she received her doctorate in April 2017. She began her career at an Aylmer clinic and currently serves patients in the Hull region.
Maria Hajj, DPM, is alert and a great listener, and she makes it her mission to provide the best possible care to people who seek her help.
Trained in all aspects of podiatric treatment
Dr. Maria Hajj, podiatrist, began her career as a podiatrist by earning a Bachelor's degree in Human Kinetics, as she is truly passionate about all aspects of the health sciences.
In the same vein, she graduated from UQTR with an undergraduate PhD in podiatric medicine in 2017. Podiatrist Dr. Hajj has completed numerous internships in a hospital environment in Joliette throughout her four-year university education. She traveled to the New York College of Podiatric Medicine as part of her second clinical immersion to hone her diabetic wound care skills.
Maria Hajj has a radiology license as well as certification in foot and ankle ultrasound, so she's never short of ideas for ways to enhance her treatments.
She can treat a wide range of patients thanks to her considerable knowledge and technical talents, which have been acknowledged by the Ordre des podiatres du Québec and the American College of Foot and Ankle Pediatrics.
Dr. Hajj, podiatrist, understands how to use her tremendous adaptability to cure the most different foot problems, whether she's treating an athlete, a young child, or an elderly person.
A podiatrist who gives back
Maria Hajj is a podiatrist who is always willing to step out of her comfort zone and has worked with Accueil Bonneau on several occasions. She hopes to eventually take her volunteer work to an international level by participating in humanitarian missions focused on podiatry.
Maria Hajj is a kind practitioner who accompanies and treats her patients with dignity.
Close
Dr. Mégane Barbe podiatrist
Dr. Mégane Barbe, podiatrist, graduated from the Université du Québec à Trois-Rivières (UQTR) with an undergraduate degree in podiatric medicine. She is an energetic, enthusiastic, and devoted professional who is always developing her practice. As a result, she customizes treatment strategies for each of her patients. She can help you with your shoes, exercises, foot orthotics, and ankle splints as well as treat your foot problems.
A wide range of professional experience
Dr. Barbe, podiatrist, did an externship at the prominent New York College of Podiatric Medicine in addition to her podiatric medicine degree, where she improved her skills in a variety of fields in both clinical and hospital settings: 
Radiology;

Podopediatrics; 

Foot and ankle surgery; 

Biomechanics; 

Gait analysis;

Treatment of complex wounds. 
This podiatrist sought even more, so she went on to finish another externship in a Quebec hospital environment, this time at the Centre hospitalier régional de Lanaudière (CHRDL) in Joliette and the Centre hospitalier affilié universitaire régional de Trois-Rivières (CHAUR).
She polished her diabetic wound care methods throughout her internship, and expanded her understanding of pharmacology and general medicine. She also developed her interest in diabetic foot and wound care during her externship.
Dr. Barbe, DPM, also undertook a humanitarian internship in Vietnam in 2019 to give podiatric care to those in need. While dealing with stroke victims on this trip, she gained vital experience in the neuromuscular sector.
A turnkey expertise to ensure your well-being
Dr. Megane Barbe, podiatrist, has received extensive training and is able to provide totally personalized therapy to each of her patients. She also has a radiography license, which she uses to assess bone diseases in the foot and ankle.
This specialist, who is a keen hiker and outdoorswoman, understands the importance of being active and will devise treatment strategies to assist you in doing so. 
Count on this podiatrist's flexibility to understand your pathology and provide you with the finest treatment designed custom for your specific needs.
Close
Dr. Marie-Christine Torchon podiatrist
Podiatrist-surgeon Dr. Marie-Christine Torchon is a real authority in her profession, and has been a part of the Gatineau Podiatry Clinic team since 2016. Dr. Torchon, podiatrist, is highly sought after for her skills and serves as a consultant in foot surgery in two additional facilities in Montreal and Laval.
This skilled practitioner is also a business owner, having just started her own podiatric practice in L'Assomption.
A successful academic and professional career
Podiatrist-surgeon Marie-Christine Torchon has an outstanding academic background, having graduated from Concordia University in 2002 with a degree in cellular and molecular biology. She continued her studies in podiatric medicine a year later at the prestigious New York College of Podiatric Medicine, where she graduated with Magna Cum Laude and Salutatorian honors.
She completed a three-year surgical residency at the Cambridge Health Alliance (affiliated with Harvard University) in Boston to get the practical skills necessary to be a podiatrist-surgeon.
Dr. Torchon, podiatrist, has just completed a graduate microprogram in international health at the University of Sherbrooke. In June 2020, she has also obtained a postgraduate professional diploma in public health at the ESPUM.
While providing foot surgery to a wide range of patients, Marie-Christine Torchon, DPM, is also working to teach the future generation of podiatrists. She is presently a radiology professor at UQTR. In addition, from 2011 to 2017, she was the pedagogical director of the school's podiatry clinic.
A podiatrist involved here and elsewhere
While her professional engagement is already noteworthy, the podiatrist-surgeon further distinguishes herself via her voluntary work.
As Vice-President of the Association of Podiatrists Without Borders, she traveled to Bolivia, Cameroon, Morocco, and Tanzania on humanitarian missions. She also established the OMHTR community podiatry clinic, which is dedicated to low-income people.
Dr. Marie-Christine Torchon, podiatrist-surgeon, is well-known for her courteous demeanor and outstanding listening abilities. She does everything she can to facilitate your recovery after foot surgery.
Close
Responsible for Personal Information / Privacy: Antoun Hajj 819-303-4836
Request an appointment at the clinic
Leave us your contact details and availability and we will contact you to make an appointment.