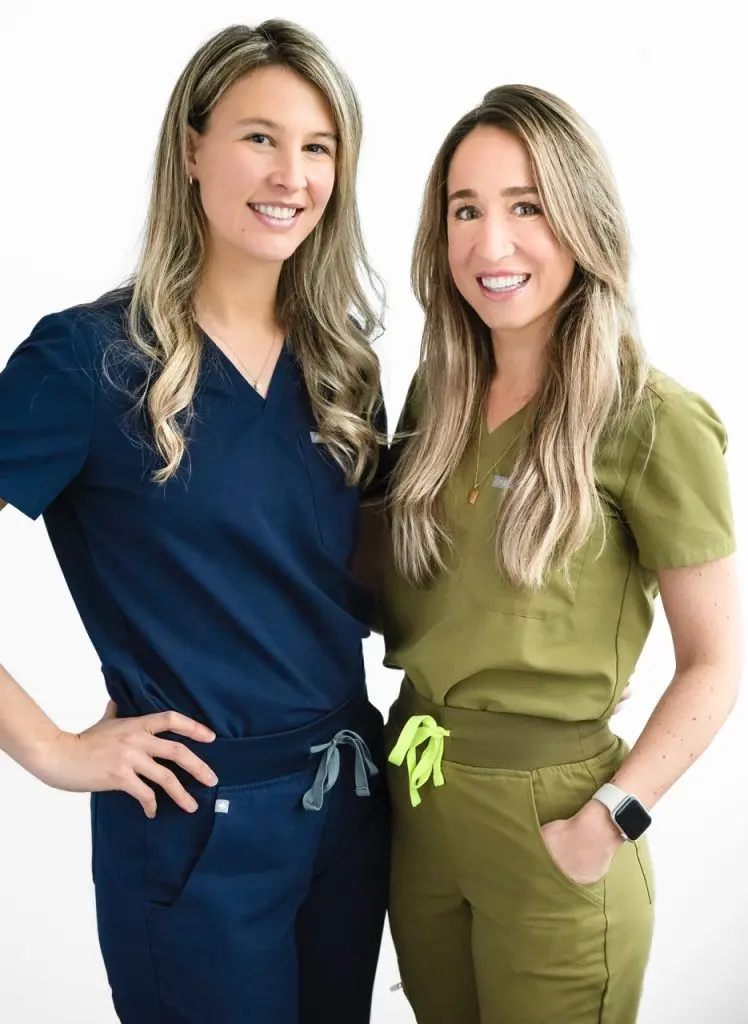 Both Dr. Marilou Arsenault and Dr. Myriam Dion, podiatrists from the Clinique podiatrique PiedMed take pride in making themselves available to their patients. That's why the two graduates of the Université du Québec à Trois-Rivières' doctor of podiatry program offer an extended schedule for their clients, who can then benefit more from the expertise offered by each team member.
What's more, they do everything they can to ensure the family atmosphere of their clinic serves to calm their patients, just as if they were in the comfort of their own homes.
PiedMed podiatry clinic
20845 Chemin de la Côte-Nord, office 303, Boisbriand, QC J7E 4H5
1-888 832-0292 Toll free
Business hours
Monday : 10:00 - 20:00
Tuesday : 08:45 - 20:00
Wednesday : 09:00 - 18:00
Thursday : 07:00 - 16:15
Friday : 08:30 - 14:00

PiedMed: Boisbriand's multidisciplinary clinic
The owners of Clinique podiatrique PiedMed de Boisbriand PiedMed's podiatric clinic in Boisbriand welcome you in a warm and dynamic environment. Concerned about the health of your feet, and also your whole body, Drs. Marilou Arsenault and Myriam Dion, podiatists offer you a multidisciplinary concept that brings together a team of health professionals that include physiotherapists, an acupuncturist, a kinesiologist, an orthotherapist and a massage therapist.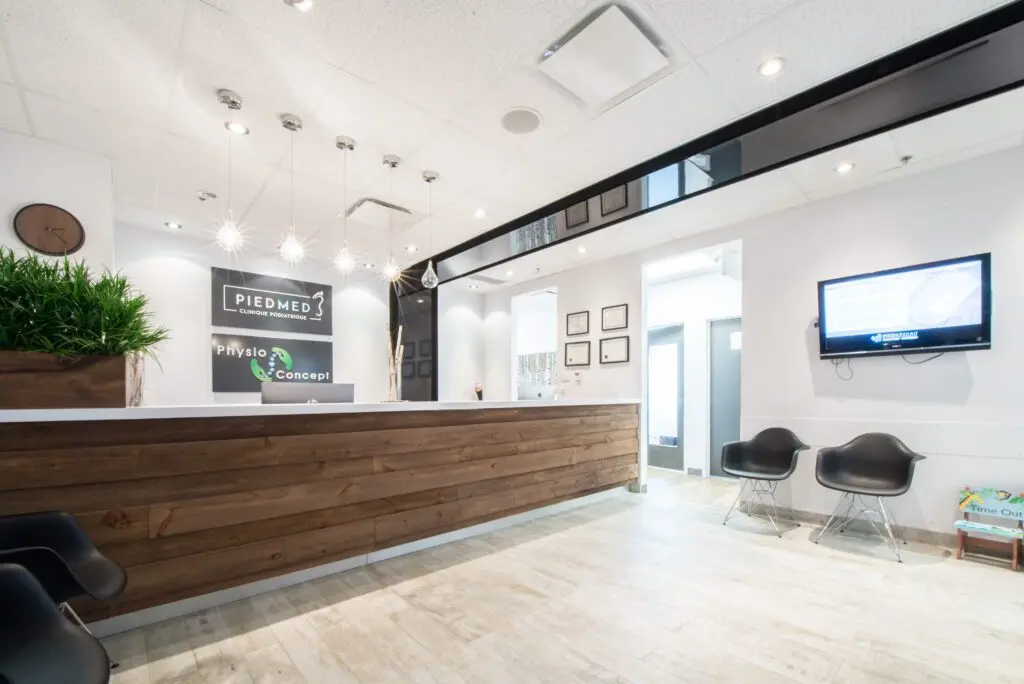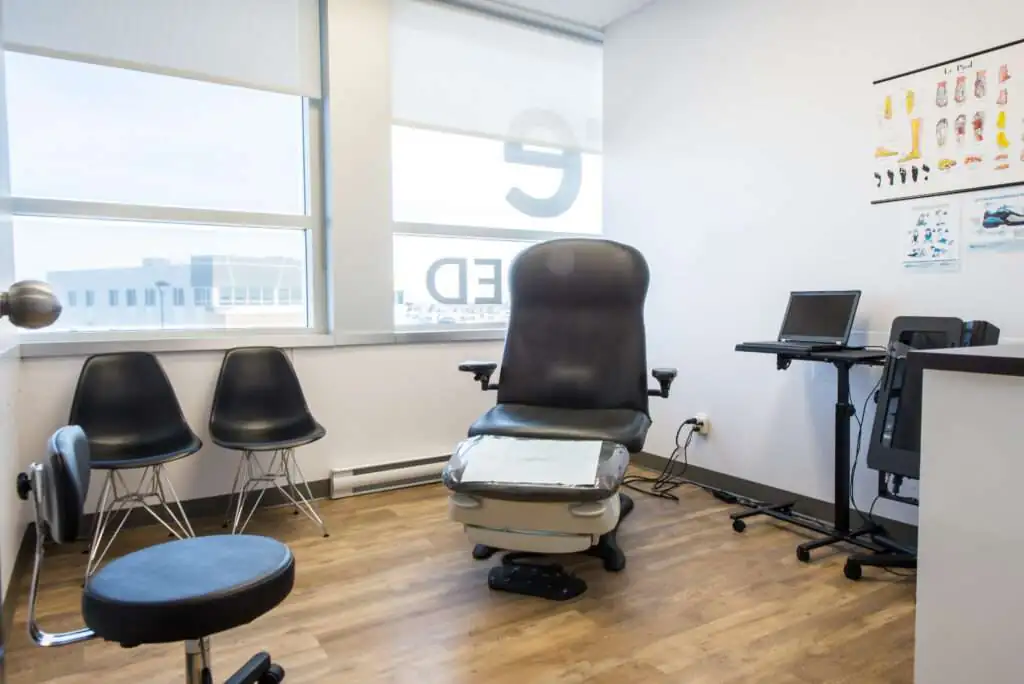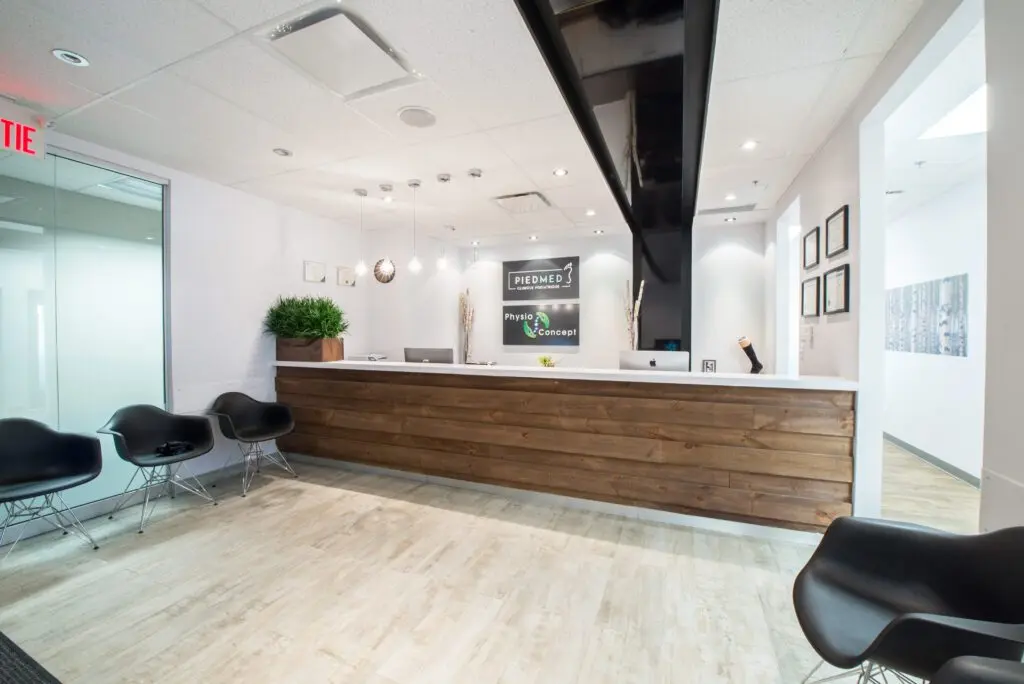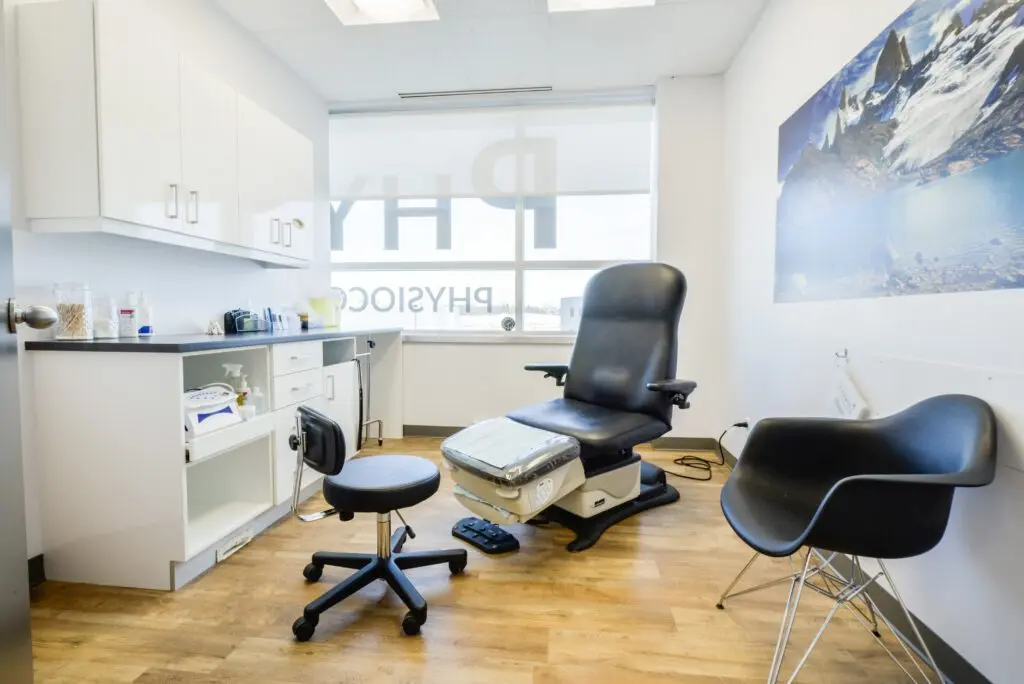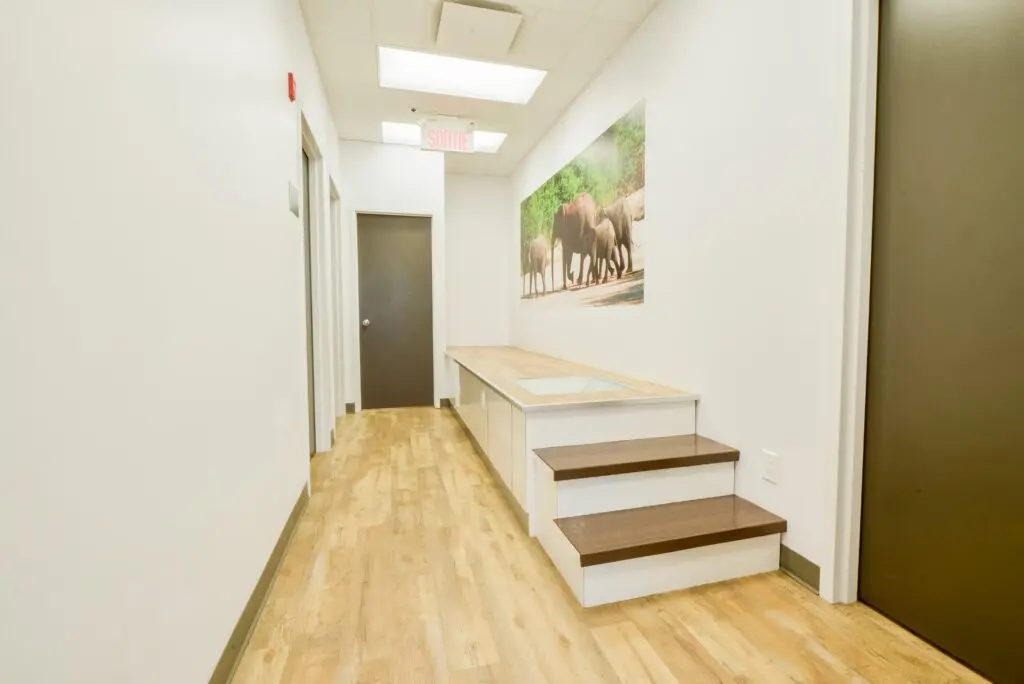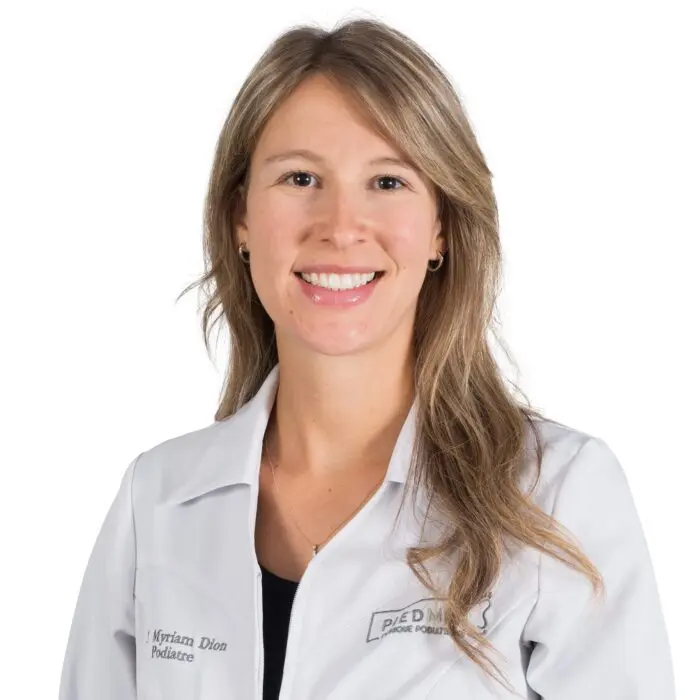 Dr. Myriam Dion podiatrist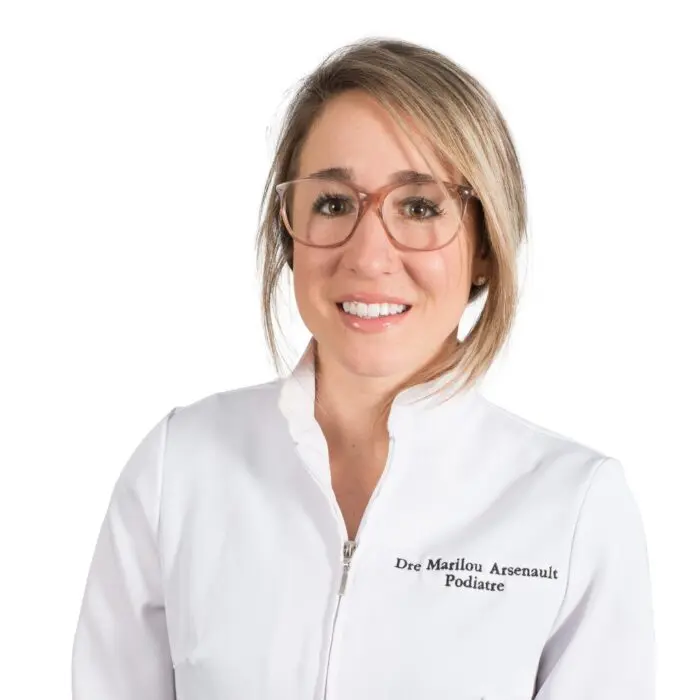 Dr. Marilou Arsenault podiatrist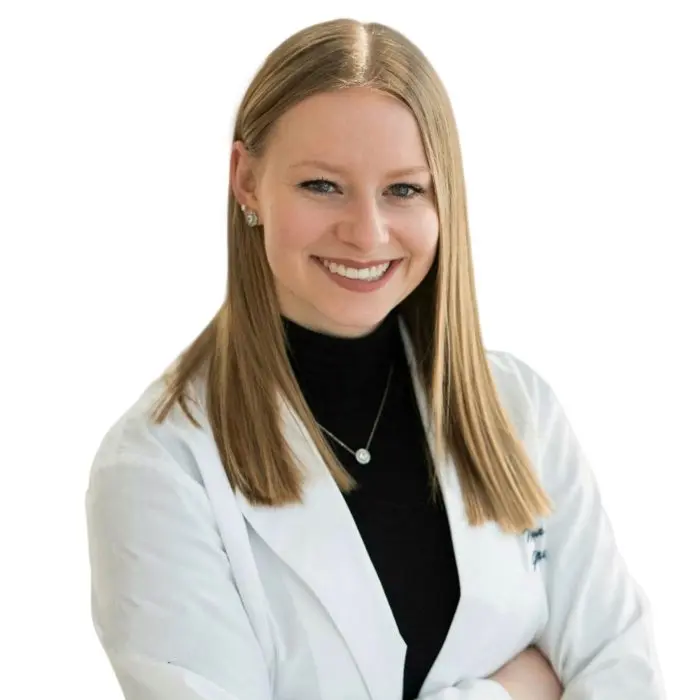 Myriam Grégoire podiatrist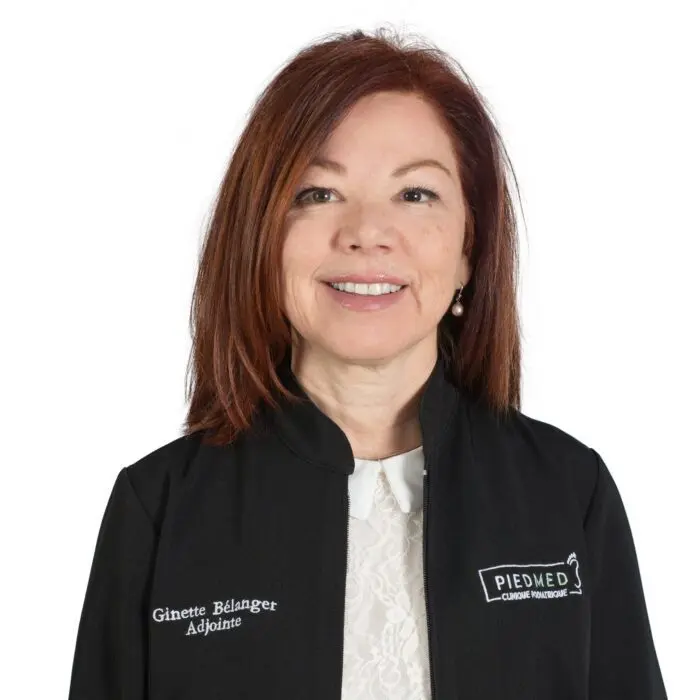 Ginette Bélanger administrative assistant
Séréna Lahaise administrative assistant
Louise Bolduc administrative assistant
Caroline Turgeon foot care auxiliary nurse
Dr. Myriam Dion podiatrist
Since 2013, podiatrist Myriam Dion has been offering medical treatments for feet. She worked as a surgical assistant to Dr. Lee, a podiatric surgeon, in Montreal and Brossard before opening the PiedMed podiatry clinic in Boisbriand. Myriam Dion, DPM, aims to offer empathetic treatment while keeping her technical knowledge up to date.
A training that is tailored to her patients' needs
Myriam Dion, a podiatrist with a UQTR undergraduate degree in podiatric medicine, has both academic and clinical qualifications. In addition, she did a several-month internship at the New York College of Podiatric Medicine to hone her abilities.
The podiatrist is quite adaptable, and she is fast to gain qualifications that improve her therapeutic treatments. For example, shockwave therapy, which she employs to treat sports injuries and inflammatory disorders, is one of those qualifications.
She will also soon be educated in foot ultrasound imaging in order to give the most complete care possible.
Dr. Myriam Dion, podiatrist, is confident in acting in a variety of conditions because of her additional credentials and skills. She has a special interest in treating small children, the elderly, and athletes.
A podiatrist who is always willing to put her heart and soul into her work
Despite the fact that her obligations as a podiatrist keep her quite busy, Dr. Dion, podiatrist, recognizes the value of her practice in her community. This is why she participates in numerous races and athletic activities as a volunteer.
She also participates in a series of seminars aimed at promoting podiatry to general practitioners.
Myriam Dion is a podiatrist who is passionate about what she does and always chooses a compassionate approach centered on active listening to her patients.
Close
Dr. Marilou Arsenault podiatrist
Podiatrist Dr. Marilou Arsenault is the co-founder of the PiedMed podiatry clinic, having been actively administering podiatric treatments since obtaining her diploma in 2013. Originally from Mont-Tremblant in the Laurentians, she began her practice in her hometown, then in Repentigny, before establishing her clinic in Boisbriand.
Welcoming the challenges of a podiatrist's day-to-day work, Dr. Arsenault enjoys treating various kinds of plantar disorders, whether they are musculoskeletal, dermatological or toenail-specific.
A multidisciplinary training
Dr. Arsenault holds an undergraduate doctorate from the podiatric medicine program at the University of Quebec at Trois-Rivières. After completing her studies, she complemented her practical training with a 4-month internship at the reputed New York College of Podiatric Medicine.
Having an interest in the overall health of the human body, she also obtained a certificate in nutrition from McGill University.
Podiatrist Dr. Arsenault is licensed to practice radiology in addition to the knowledge acquired through her university studies. Furthermore, she will soon be certified in foot ultrasound in order to improve her ability to treat her patients even further. 
In her everyday work, Marilou Arsenault, DPM, defines herself as a multidisciplinary practitioner. Therefore, she takes pleasure in treating the various problems at the root of her patients' foot pain. Elderly, young, athletic or in the process of getting back into shape, whatever their case may be, podiatrist Marilou Arsenault is happy to assist them.
A podiatrist who understands the nuisance of foot pain
While her podiatric practice may occupy a great deal of her time, podiatrist Dr. Arsenault remains a devoted athlete. Keeping in tune with an active lifestyle gives her the opportunity to better understand her patients' inconveniences caused by plantar discomfort.
A proactive podiatrist, Dr. Marilou Arsenault makes sure to remain attentive to every particularity of your situation in order to provide the most personalized treatment.
Close
Responsible for Personal Information / Privacy: Myriam Dion et Marilou Arsenault 450-990-0042
Request an appointment at the clinic
Leave us your contact details and availability and we will contact you to make an appointment.